She was a passionate and dedicated cheerleader for our athletes during this summer's Olympics and Paralympics.
And it seems nothing would stop the Duchess  of Cambridge continuing that role last night – not even the crippling form of  morning sickness that has plagued her for the last two weeks.
She made her first formal public appearance  since her pregnancy was announced at he BBC Sports Personality of the Year  ceremony in London, where she presented two awards.
Popular choice: Bradley Wiggins receives the BBC Sports  Personality of the Year award from the Duchess of Cambridge
Champion: Kate takses a backseat to cycling king Bradley  Wiggins
Putting her recent pregnancy troubles behind  her, the Duchess of Cambridge walked out in an Alexander McQueen green dress  matched with a  striking smile as she presented chairman  of the London Organising Committee for the Olympic Games  Seb Coe with the Lifetime Achievement award.
She stayed on the stage throughout Coe's  speech and was then on hand to hand the Sports  Personality of the Year award on to David Wiggins.
Runner-up was Team GB heptathlete Jessica  Ennis, who won gold in the 2012 Games, and in third place was tennis star Andy  Murray, who also won gold at the London Olympics.
Her decision to honour the engagement after  being forced to cancel her last four public appearances is a sign that the  30-year-old is slowly recovering after spending several days in hospital with  hyperemesis gravidarum earlier this month.
So close: The Duchess of Cambridge smiles as she hands  over the runners-up prize to Jessica Ennis
Great job: Kate appears to be sympathetic after Ennis  missed out on the top prize
Aides said the duchess, a Team GB Ambassador,  was keen to attend to pay tribute to the achievements of British sportsmen and  women in a remarkable year for British sport.
A fortnight after she fell ill with a  crippling form of morning sickness, the Duchess finally made her first formal  public appearance.
Kate, who was admitted to hospital in early  December suffering from hyperemesis gravidarum, a condition which causes severe  vomiting pregnant women, attended the prestigious BBC Sports Personality of the  Year Awards in London.
Welcome appearance: Lord Coe and Kate appear to have a  little chat before he takes the microphone
Handshake: Kate hands the Lifetime Achievement award to  chairman of LOCOG Seb Coe
Kate looked pleased to have made the ceremony
Her decision to honour the engagement after  being forced to cancel her last four public appearances is a sign the  30-year-old royal is slowly recovering from the illness that has plagued her  first few weeks of pregnancy.
Aides said the Duchess, a Team GB Ambassador,  was keen to attend to pay tribute to the achievements of British sportsmen and  women in a remarkable year for British sport.
But sources close to Kate, less than 12 weeks  pregnant, stressed that she would only attend the evening-long event at London's  ExCel for around 45 minutes before returning home to Kensington Palace, where  she continues to recuperate.
Doctors have warned her that the condition  can recur at any time in the first few months of pregnancy – and sometimes even  beyond.
'While the Duchess does not feel ready to  attend a four-hour engagement, she is keen to show her support to the UK's  sportsmen and women at this prestigious event which caps a momentous year for  British sport,' said a senior royal source.
Over to you: The Duchess was in good company as she  presented Lord Coe with his award
Kate attended the event alone as her husband,  Prince William, has been forced to return to their rented farmhouse in Anglesey,  North Wales, as he is due on duty as an RAF Search and Rescue  pilot.
But the fact that the prince felt confident  enough to leave her suggests that he, too, is encouraged by her  recovery.
He will return to London in time for  Christmas but aides have yet to announce whether they plan to join the Royal  Family at Sandringham, in line with tradition.
While it would be extremely unusual for the  future king and his wife to miss the annual celebrations on the Queen's Norfolk  estate – including the traditional visit to church on Christmas morning – sources have indicated that Kate is 'seriously' considering remaining in  Berkshire with her family so she can recover in peace and be closer to hospital  if she takes a turn for the worse.
Her decision will be announced in the next  day or so.
  From Daily Mail
Kate  attended St Andrew's in Pangbourne, Berkshire, from 1986 to  1995

Revealed in  a speech she was nicknamed Squeak after school's  guinea pig

Unveiled a  plaque to open a new Astroturf hockey pitch 
It was back to school for the Duchess of  Cambridge today as she revisited her old preparatory school.
Kate, 30, 'adored' her time at St Andrew's in  Pangbourne, Berkshire, where she was a pupil from the ages of four to  thirteen.
Just a short drive from her family home in  Bucklebury, she was something of a star pupil at the exclusive £13,000-a-year  establishment where she won awards for both sport and music.
The elegant royal, dressed in a very  appropriate tartan coat-dress by Alexander McQueen, was revisiting the school,  appropriately, on St Andrew's Day, the annual celebration of the patron  saint of Scotland, when the school traditionally observes a day of  activities and festivities to mark the occasion.
In a speech, the Duchess of Cambridge  revealed she had the nickname Squeak at school, named after the St Andrew's  school guinea pig.
Back to school: The Duchess of Cambridge visited St  Andrew's prep school, where she spent nine happy years as a girl, to
join
  in their St Andrew's celebrations
Welcome guest: Kate, who wore a smart tartan coat that  toned in beautifully with the uniform of St Andrew's, chatted to pupils before  taking a tour of her old stomping ground
Bring back memories? Kate was given a tour of the school  that she attended from 1986 to 1995. The Duchess also opened a new Astroturf  hockey field at the school – an appropriate tribute given her passion for the  sport
The Duchess is due to meet teachers and students  privately over lunch before visiting the Pre-Prep school for  Under-5s.
She will then formally open a new Astroturf  playing field by unveiling a plaque and meet members of the school's current  hockey team.
Kate will tour the school privately before  observing some the School's 'Progressive Games', which are traditional games  played indoors by the School's teachers and students on St. Andrew's  Day.
Progressive games is a tradition stretching  back since St Andrew's School first opened. On St. Andrew's Day, the staff set  up a number of short, five minute games, and small groups of mixed-aged children  progress around the games earning scores as they go.  A winning  team is declared at the end of the day.
The Mail has uncovered photographs of the  Duchess during her time at the school, including a joyful picture of her leaping  into the air with delight on the hockey pitch.
At the time Kate was aged 13 and celebrating  an historic hockey victory with her school team. Others  show her playing rounders, netball and playing the flute.
According to one fellow pupil, Kate thrived  in the school's close-knit, family atmosphere.
She quickly became one of its most celebrated  pupils, excelling at almost every form of sport including tennis, hockey,  swimming, netball and rounders.
But she also threw herself into other aspects  of school life, taking part in its public speaking competitions, pantomimes and  plays. She enjoyed drama workshops during her summer holidays, learned ballet  and tap and was a proficient flautist and singer.
Just a quick flick through one of the  school's year books published in June 1995, her final year, demonstrates how  Kate's star shone.
Happy time: Kate, seen here celebrating a victory on the  hockey pitch, is  said to have adored her time at St Andrew's school, where she  excelled  at sport and music
Page after page, her list of achievements  grows longer. As well as her success with the Under 12/13 hockey team, she  played goal defence for the Under 13 Netball team during one of its most  successful ever seasons.
There was also the Under 12/13 rounders team  for which Kate – listed under her full name Catherine Middleton – was named the  highest scorer of the season.
She was also a keen swimmer and athlete. On  sports day she won the Under 12/13 200m in 31.24 seconds and set records in both  the long jump and high jump of 4.14metres and 1.39 metres  respectively.
On prize giving day, her prowess was rewarded  with the Calvert Cup for rounders and the Leslie Cup for outstanding overall  sporting achievement for a girl.
Musically, Kate also proved to be extremely  gifted – a talent she has so far managed to hide from public view.
She was a member of St Andrew's inaugural  Chamber Orchestra and of the senior flute group – amusingly known as the  Tootie-Flooties – along with her younger sister, Pippa. Friends say she was also  deputy head chorister in the chapel choir and was once commended in a BBC carol  competition.
Shortly before she left the school, she also  passed her Associated Board Grade 111 flute examination with merit and also her  Grade 1V and V singing.
One contemporary remembers Kate extremely  fondly.
'She was a really lovely, warm girl who  didn't have a bad bone in her body. I couldn't speak of her more highly,' they  said.
'In some ways she was rather quiet and  unassuming but she excelled on the sports field and was definitely one of our  golden girls.
'While she may not have been one of the most  outgoing pupils there, she was always cheerful, happy and surrounded by  friends.
'We all used to spend lunchtimes climbing  trees, playing tennis and roller-skating. It was quite an idyllic childhood  really.'
The former classmate was also struck by the  closeness of Kate's relationship with her parents, Michael and Carole, and  siblings Pippa and James, saying: 'They were a lovely family, very tight and  supportive.
'At the time they were living in quite an  ordinary three-bedroomed house in the village of Bradfield Southend. Carole's  business selling children's party goods had taken off enough for them to send  her kids to private schools but their house was still very humble. Full of your  typical family clutter.
'Carole was extremely supportive of all her  children. She and Michael used to come to all Kate's sports matches to cheer her  on and Carole always took part in the mother/daughter rounders match on sports  day.'
Although they have not seen Kate for many  years, her former classmate believes she will prove to be a 'breath of fresh  air' for the Royal Family.
'It's rather surreal knowing that she will be  Queen one day, but by all accounts she is as refreshingly normal as always,' said one.
'It's still hard to imagine her becoming  Queen one day, but I can tell you one thing, the royals are lucky to have  her.'
MEMORIES  OF THE GOOD OLD DAYS…
Sporty: Kate (front row, centre) was the highest scorer  in the 12/13 rounders team at St Andrew's when she attended
Set for success: Kate (back row, centre) excelled at  netball as well as hockey and rounders – and her height made her a demon Goal  Defence
Team player: Kate (back row, third from left) by the  swimming pool at St Andrew's
We all "recycle" our clothes and Kate is her own person and if she wants to wear a outfit more  than once more power to her.
Duchess recycles coat but swaps usual nude heels for sensible navy courts
Joins the Queen and her husband to meet crowd of 35,000

Royals explore city on East Midlands part of Diamond Jubilee tour

Witty William jokes with crowd, many of whom arrived at 5am to join
Thrifty Kate recycled an outfit again today as she stepped out in a powder blue tweed coat dress that she wore just two months ago.
But the Duchess of Cambridge freshened up the look by pairing the dress with a navy cocktail hat by Rachel Trevor Morgan and navy court shoes in place of her usual nude heels.
Kate has begun to develop a reputation for reusing her clothes, appearing in both a coat and hat she had worn previously at a wedding last weekend.
No nude shoes this time: Kate's blue tweed M Missoni dress had its second outing in two months, paired with a navy cocktail hat and court shoes and a quilted black clutch
Kate's girls: The Duchess accepts a posy from eight-year-old Isabelle Weall (centre) outside Nottingham Town Hall
The dress had been around for a while even before Kate wore it to Fortnum and Mason with the Queen and Camilla in March – as it comes from the designer's 2010 collection.
Kate's restrained look, completed with sparkling earrings and a quilted black clutch bag, echoed the Queen's turquoise and silver outfit.
Her Majesty wore a double-breasted coat and matching hat, which Prince William was heard to compliment as he and his wife welcomed the monarch off the Royal Train at the station.
The Duke and Duchess of Cambridge arrived by car and chatted with dignitaries on platform 6 ahead of the Queen's arrival, while a handful of passengers gathered on the opposite side of the tracks and waved flags.
In a rare cheeky moment, William shouted to them: 'Are you waiting for the same train we are?'
The Queen was greeted by William and Kate as she got off her train and the royal party made their way into the main station concourse, where there were cheers from the hundreds of well-wishers who had gathered behind barriers.
The Queen beamed as she chatted to schoolchildren and accepted bouquet after bouquet of flowers.
Same dress, different occasion: Kate today wore chunky heeled dark courts with the dress, left, where she teamed it with pale grey stilettos to visit Fortnum & Mason in March, right
Kate and William – wearing a navy suit – talked to the masses who had gathered behind the opposite barrier before the royal party assembled to travel into the city centre.
Adored: The Duchess smiled as she greeted the excited public and was handed posies
The Queen was wearing a silk tweed double breasted Stewart Parvin coat and shift dress with shades of turquoise, grey and ivory. Her hat, in the same colour, was, like Kate's, by Rachel Trevor-Morgan.
The royals then smiled and waved from between the pillars of the imposing Council House balcony as the around 35,000 people – some of whom arrived at 5am – joined in a rousing rendition of God Save the Queen.
The monarch waved a glove happily as the throng confirmed that the Jubilee spirit is still very much in evidence following the end of the Bank Holiday celebrations.
Excited onlookers cheered and waved Union flags and hundreds of thousands lined their route through the East Midlands city.
The royal party are to meet civic dignitaries in the Council House later today, before attending a ballroom reception and visiting Vernon Park in Basford to mark a Fields in Trust project for the Diamond Jubilee.
Luckily the rain stayed away as the royals made their arrival for the latest Diamond Jubilee celebration.
The Duke of Edinburgh was originally scheduled to join the group on the trip but had to cancel as he continues to recover from a bladder infection.
Philip left hospital on Saturday, the day before his 91st birthday, after falling ill following the Diamond Jubilee River Pageant.
Two peas in a pod: Kate and the Queen sit with their hands clasped in their laps as they smile at the celebrations in Vernon Park
Music to their ears: The throng sang God Save the Queen while the cheerful group enjoyed the moment
Energetic example: Her Majesty wore flat black shoes to meet a throng of 35,000 on the latest stage of her epic Diamond Jubilee tour
Captive audience: Crowds gathered from 5am in the city's Market Square to catch a glimpse of the royals on the balcony of the Council House
The Duke spent the pageant last week on board the Spirit Of Chartwell royal barge in a flotilla of 1,000 boats along the Thames in extremely wet and cold conditions.
Posh enough? Kate's frayed dress drew comment the last time she wore it for the unfinished edges and high hemline
He is continuing his convalescence at home, Buckingham Palace said.
Maureen Cottee, 66, from Leicester, shook Kate's hand before telling her: 'Oh, you're fantastic.'
Mrs Cottee said of the encounter: 'I said "I think you're beautiful, you look gorgeous" and she asked me what time I got here.
'I told her I arrived at around 5am and she laughed before asking "Have you got your blanket?".'
Brandon Morris, four, from Ilkeston, Derbyshire, was wearing a plastic crown as he waited in the crowd with his family and met William and Kate.
He said he had a 'really good time' and enjoyed meeting them.
Julie Willmott, 54, from Arnold, Nottinghamshire, arrived at 7am to catch a glimpse of the Queen. She said: 'I said to the Queen "Congratulations on the Jubilee".
'She was gorgeous, she had a lovely smile. She was radiant and looked very youthful.'
Margaret Handley, mayor of Broxtowe, described William as witty and charming.
She said: 'Somebody said to him "You look taller in person" and he said "I'm not wearing my high heels today".'
As patron of the Queen Elizabeth Fields Challenge – a project supported by The Foundation of Prince William and Prince Harry – the Duke of Cambridge will speak at Vernon Park today.
The Queen will unveil a plaque at the park, which has been granted Queen Elizabeth II Fields in Trust status.
William and Kate will remain at Vernon Park after the Queen has left, where they will watch some sport and meet people involved in the Queen Elizabeth Fields Challenge.
The royal party was greeted by the Robin Hood Rifles band as they arrived to cheers from the crowds at Vernon Park in Basford, around three-and-a-half miles from the city centre.
The park is one of 1,300 recreational spaces to be given Queen Elizabeth II Fields Challenge status so far.
Members of the crowd could be heard shouting 'We love you'.
Sensibly shod: Kate and William, left, met Her Majesty and the Royal Train along with a crowd of well-wishers at Nottingham station after arriving by car
Joyful occasion: The Queen smiled happily as she accepted bouquets while dressed in a brilliant turquoise and silver coat
Grand occasion: The royals smiled and waved while 35,000 well-wishers cheered and waved flags for the elegant trio
Shades of blue: After meeting the masses, William, Kate and the Queen headed into the Council House for a ballroom reception
'This is an exciting day, this is a historic day for Nottingham,' said Gyles Brandreth, vice president of the Fields In Trust, of which the Queen is patron.
The BBC One Show star added that the Duke of Edinburgh, who has been president of the charity for 64 years, was here 'in spirit'.
William fired a fake pistol to start The Diamond Jubilee Dash – an obstacle race including pupils from several local schools.
Nottingham City Council leader Jon Collins, said: 'As the capital of the East Midlands, it's great Nottingham's playing host to this royal visit.
Little King: The Duchess meets a William wannabe dressed in a crown and gold collar
'I'm sure that local people will give the royal party a warm welcome and will be excited about getting the chance to also see the Duke and Duchess of Cambridge as part of the Diamond Jubilee celebrations.'
The Queen will next travel to Burghley House in Stamford, Lincolnshire, which is hosting a Diamond Jubilee Picnic, before making a final stop at the Olympic swimming pool in Corby, Northamptonshire, where she will watch a high diving display.
She will also visit The Cube, a building which houses council offices, a library and theatre.
The Diamond Jubilee tour began on March 8 in Leicester and has taken in key areas including Manchester, Salisbury, Richmond and Liverpool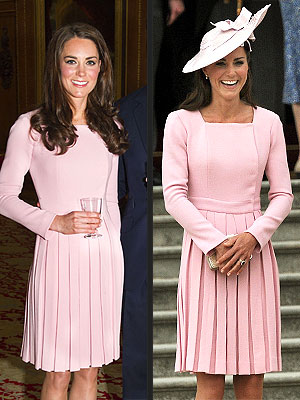 Kate has done it again!
The Duchess of Cambridge was spotted wearing the same $2,000 pale pink Emilia Wickstead coat dress twice in just 11 days. She first wore the frock last Friday, May 18, for a luncheon at Windsor Castle, recycling it Tuesday for a tea party at Buckingham Palace.
Kate used a half-up hairstyle, Jane Corbett hat and her favorite L.K. Bennett pumps to freshen the dress for its second go-round. For the first wear, she'd paired it with sparkly drop earrings, satin heels and loose waves. 
The Duchess, a master at wardrobe remixing, jokingly dished on her dress with reporters at Tuesday's tea. "I've worn it before," she said, "as you all probably know."
The young royal's recycling has been widely documented, from her casual grocery store runs and official engagements to family weddings and group dinners.
•
This was in the tabloid that I scanned earlier.  In the front it hasa small replica of Scroll tiara Catherine wore for her wedding.
It looks bigger than the Diana inspired hand bag that Bradford Exchange made a few years back. I am thinking about maybe purchasing this one.It would make a great fall handbag.
Looks like another tv show has decided to look to Kate for thier style choices in costumes. This time is the hilarious hit Good Christian Belles  aka GCB. The character Heather is wearing a copy of Kate's Alexandra Mcqueen blouse .   We will keep an eye open to see if there are any more Kate inspired outfits that make it's way the show in the future.
Jackie O. Princess Diana. Audrey Hepburn. These three women were not only fashion icons, but they were also trendsetters for entire generations. Of course, there is more to being a trendsetter than just being stylish. It takes a certain aura, a certain mystique and (most importantly) a certain type of person to reach that level.
Kate Middleton has reached that level.
Kate Middleton might have been deemed the girlfriend of Prince William before the Royal Wedding. But come April 29, 2011, when Middleton glided down the aisle of Westminster Abbey, everything changed. Middleton became a Duchess and the world became enthralled.
Since that fine day just one year ago, the brunette beauty has basked in an adoring spotlight that very few celebrities have the pleasure of experiencing. It is not just her royal status, her fabulous wardrobe or her effortless style. Kate Middleton exudes a collected, calming confidence and a beautiful poise that cannot be taught.
Here is how the Duchess of Cambridge echoes an influence akin to some of the most famous style icons who preceded her.
She Sticks to the Classics
Jackie O became a fashion icon when in the fall of 1960 she had Oleg Cassini design an original wardrobe for her role as First Lady. Matching skirt suits, sleeveless A-line dresses, kitten heels, elbow-gloves and pillbox hats came to symbolize the "Jackie O" look. Though her style evolved as time went on, Jackie stuck to the classics. She remained true to herself despite the countless fads that sprung up around her.
Similarly, Kate Middleton adheres to a classic style that will never go out of vogue. Matching suits, elegant hats, slim-fitting pants, lace overlays and pumps make Middleton's wardrobe something of timelessness. One of her favorite staples is the L.K. Bennett pump. Middleton opts for this classic footwear with everything from a dazzling gown to a simple sheath dress. It is important to have those classic essentials to anchor your wardrobe. They will define who are you and who you present yourself as.
A Pleasing Palette
Diana Spencer entered the British royal family in 1981 and became a princess. Princess Diana, who was ranked in TIME's "All-TIME 100 Fashion Icons," might night have been born a noble, but she certainly knew how to dress like one. "Reflecting her personality, she made laidback look elegant, and transformed the traditional regal look into something altogether more inviting and modern. She loved color – from sparkling cabbage to crimson to orange – and materials from taffeta to lace," wrote TIME's Jayne Fincher.
Kate Middleton's color palette is just as eye-catching. The Duchess consistently flaunts jewel tones like sapphire, ruby, amethyst and emerald. After Middleton stepped out in a pair of coral jeans to greet the UK's Olympic field hockey team, sales of Asda's colored denim shot up 88 percent, according to England's Daily Express. Choose colors that not only complement your coloring, but that also say something. If you are outgoing and boisterous, loud neon colors will suit you; if you are genteel and mellow, pastels are your perfect match.
Easy Breezy
Audrey Hepburn's style was so beloved because it was easy; it was a style the everyday-woman could adopt without much muss or fuss. Her relationship with Hubert de Givenchy helped develop this. "[Givenchy] gave me a look, a kind, a silhouette. He has always been the best and he stayed the best. Because he kept the spare style that I love. What is more beautiful than a simple sheath made an extraordinary way in a special fabric, and just two earrings?" said Hepburn. A little black dress, a pearl necklace and some oversize sunglasses were all she needed.
Kate Middleton keeps her style just as easy and that is what makes the Duchess so lovable. Although she has the Crown Jewels at her disposal, Middleton instead opts for styles from H&M, Harrod's and TopShop. On the weekends, you will see her in jeans and loafers. Do not get too caught up in looking "perfect" all the time. The best looks come the easiest. Simple straight leg pants, a striped sweater, ballet flats and a swipe of red lipstick can work wonders.
With her midas touch, the items the Duchess of Cambridge chooses to wear not only become sellout success stories, but propel their creators into the public consciousness, and for the likes of Issa, Temperley and Jenny Packham, they are about to enjoy round two of free publicity.

The waxwork of the Duke and Duchess unveiled by Madame Tussauds in London today shows Kate in the now-infamous royal blue Issa wrap dress she wore to announce her engagement. With dozens of copies quickly produced in light of the real thing selling out, visitors will get to see the design by the London Fashion Week label – one of Kate's favourites, up close.
An Issa spokesperson said: "It is fantastic to be showcased at Madame Tussauds and think that the new waxwork is brilliant."

Kate wearing Issa as part of the waxwork of the Duke and Duchess unveiled by Madame Tussauds in London. Photo: EPA
West London-based label Temperley have also been quick to point out that they worked on the figure of Kate launched simultaneously in Amsterdam, which sees the Duchess in the bespoke black lace gown which she wore to the War Horse premiere in January this year.
The gowns by Jenny Packham and Alexander McQueen to feature upon forthcoming waxworks of the Duchess. Photos: REX/ PA
The New York franchise will see Kate outfitted in a lilac Alexander McQueen gown she wore to the BAFTA Brits event in Los Angeles last July.
Meanwhile north London designer Jenny Packham, who recently told the The Telegraph the Duchess is "a dream to dress", will see a version of the beaded rose silk chiffon Kate wore on her first public engagement as a married woman last summer upon the figure in Blackpool.